Mission and Vision
Governor's Office for Children's Vision:
All Maryland children, youth, and families will live and prosper in healthy, safe, and thriving communities.
Governor's Office for Children's Mission:
The Governor's Office for Children promotes the well-being of Maryland's children, youth, and families through data-driven policies and collective solutions.
Role and History
Since 1978, the Governor's Office for Children and the Children's Cabinet have worked to ensure that Maryland's children, youth and families can flourish and achieve their potential. The Governor's Office for Children has historically accomplished its work through a firm commitment to bringing together senior officials from State Agencies, community organizations, and local jurisdictions to overcome barriers and establish clear outcomes for improving the lives of children, youth, and families across the State.
Today, the Governor's Office for Children operationalizes Governor Hogan's vision for economic opportunity for all and advances that vision by focusing on four Strategic Goals: reducing the impact of parental incarceration on children, families, and communities; reducing the number of youth, aged 16-24, who are not working and not going to school; reducing childhood hunger; and, reducing youth homelessness. Focusing on these four goals will lead to a stable, safe, and healthy environment for children and families. Working at the direction of the Governor, the Office facilitates the work of the Maryland Children's Cabinet and supports child well-being by:
Promoting sound child and family policy;
Using Maryland's child well-being Results in planning, decision-making, and evaluation;
Collaborating with the Local Management Boards and other partners;
Using data and technology to continuously evaluate and measure outcomes; and
Ensuring fiscal accountability.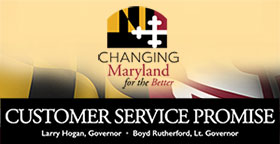 The State of Maryland pledges to provide constituents, businesses, customers, and stakeholders with services in the following manner:
Friendly and Courteous:

We will be helpful and supportive and have a positive attitude and passion for what we do.

Timely and Responsive:

We will be proactive, take initiative, and anticipate your needs.

Accurate and Consistent:

We will always aim for 100% accuracy, and be consistent in how we interpret and implement state policies and procedures.

Accessible and Convenient:

We will continue to simplify and improve access to information and resources.

Truthful and Transparent:

We will advance a culture of honesty, clarity and trust.
Tell us about your experience with the Governor's Office for Children by completing a three question customer experience survey.
Click here to view our customer service overview. You can also view our customer service commitment and performance measures by clicking here.
For more information on the State of Maryland's customer service program, or to submit a suggestion, please visit Maryland.gov/CustomerService.