Customer Service Promise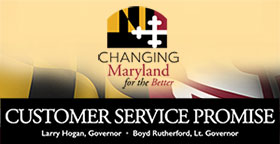 The State of Maryland pledges to provide constituents, businesses, customers, and stakeholders with services in the following manner:
Friendly and Courteous:

We will be helpful and supportive and have a positive attitude and passion for what we do.

Timely and Responsive:

We will be proactive, take initiative, and anticipate your needs.

Accurate and Consistent:

We will always aim for 100% accuracy, and be consistent in how we interpret and implement state policies and procedures.

Accessible and Convenient:

We will continue to simplify and improve access to information and resources.

Truthful and Transparent:

We will advance a culture of honesty, clarity and trust.
Tell us about your experience with the Governor's Office for Children by completing a three question customer experience survey.
For more information on the State of Maryland's customer service program, or to submit a suggestion, please visit Maryland.gov/CustomerService.
Governor's Office for Children Customer Service Performance Measures
The Governor's Office for Children promotes the well-being of Maryland's children, youth, and families through data-driven policies and collective action. The Governor's Office for Children's Customer Service Scorecard is available here.
Click here to view our customer service overview. To download our customer service performance measures, please click here.